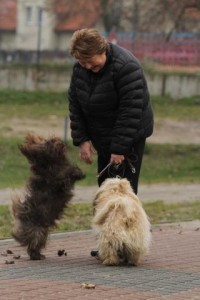 Kennel " Z Przemożnej Chętki" has been founded in 1986 and for 34 years has been run by wonderful and totally committed person: Barbara Onak, president of ZKWP O/Gdynia, who sadly, is no longer with us (died 2018).
She wrote about herself:
My experience with the dog began when I was a little girl.
My first friend was Bambi.
She was to be Podhale Shepherd, but grew out of her a mongrel.
This cheerful a mongrel was my annoyance, not listening, running away, she came home in the middle of the night …
Bambi became ill with trachoma and left at the age of only three years.
For me it was a terrible experience.
Alma was a cheerful Polish lowland sheepdog.
She was my partner for fun and faithful friend for 16 years.
Characterized by extraordinary wisdom and unconditional love for all my family.
Even then I knew that the only consistent work with a dog can give you the desired results.
Alma was my pride and joy, to this day I remember the dog wistfully.
Ada was a beautiful black and brown dachshund. Her previous owner did with her ​​toy for their children.
Broken tail, torn ears, wounds all over her body was a picture of the terrible treatment of a defenseless animal.
During the twelve years amazed me with their loyalty and gratitude for the love and care that we offered her.
Zadra was a huge black giant schnauzer.
She lives in my house because the previous owner no longer wanted to be her master.
All her seven-year life she served us faithfully.
She watched the house, deterred unwanted visitors, always prone to mischief and fun.
In 1986, I registered my kennel under the name "With the overwhelming Caprice" number 1557 / p
All my dogs have a huge appetite for this reason I chose the name of kennel.
Ada and Zadra have won many medals and trophies at dog shows in the country.
Then I did not have the conditions to start breeding, so my steps in kynology started from the exhibitions, but it just exhibition gave me a lot, because before were born first puppies my, I had the opportunity to meet many breeders of Polish kennel and with leading European which greatly contributed to deepen my knowledge about dogs race, especially a race that fascinated me then.
This was Bernese Mountain Dog.
With this knowledge, when I had my first litter, I could fully ensure the proper development of puppies, so the mental and physical, and pass this knowledge on to the new owners of this wonderful breed.
Finally a dream come true, because I chose a race that charmed me with their beauty and wonderful character.
Fanta, Gaia, Goliath, Car, Dobranoc Amadeus is the Bernese, who accompanied me in my life for 12 years. In August 2013 Amadeus and Dobranoc gone. This sad and very painful event ended a chapter in our breeding, Bernese Mountain Dog ".
My heart, thoughts, memories will always be with those lovable, loyal and intelligent dogs.
Years passed, came gray hair, age, physical strength disappeared. That's why I decided on a smaller breed. I chose Havanese: wonderful, happy, forever, laughing, "smart dogs. Right now I have a large herd, still playing, small furries. They give me health, serenity and extremely interesting contacts with people. To a group of my friends have joined many people – lovers of the breed.
Thank you very much for the words of praise and criticism.
All breeders, dog lovers, I wish you success!
Remember – DOG is the greatest friend of the Human!